Lindell Motorsports has additional services that help you become the best race car driver possible
The Best Race Gear
Lindell Motorsports relies on Speedy Race Gear and Race Suit Rental to provide the best in race equipment and optimal prices.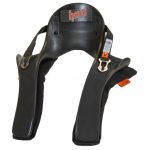 We have everything from state-of-the-art Hans devices, to race boots, gloves and harnesses.
The Best Race Coaching
The best race car drivers practice the right actions and thoughts, over and over. This means having a coach on your team that helps you understand what went wrong and how to fix it, as well as the best line to take or how to brake more effectively. Combine this powerful
coaching with off-season digital simulators and you'll have the confidence and know-how to win races. So call us now to become a part of the Lindell Motorsports family.
The Best Racing Incentives
Lindell Motorsports has a Winner's Edge Bonus program
The Best VIP Program
If you are a busy business owner or executive, time is your most valuable asset. Lindell Motorsports has a VIP program that takes care of ALL the arrangements, from flying you in to the racetrack to hotel, meal and transportation back home. Our goal is you have the race weekends of your dreams, where you focus on YOUR skill, YOUR abilities and YOUR competitive edge that brings home the trophies. Be sure to ask about our VIP program when you call us!